Social Media
Newsletter
The Mizzou Families newsletter helps you stay connected to Mizzou with current information about campus life, events and resources.
Subscribe to the Mizzou Families newsletter
Browse past issues
2022
2021
2020
---
Calendar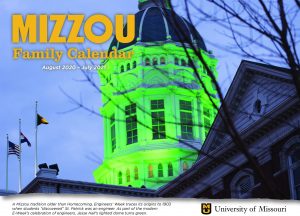 Looking for a way to keep up with important dates and deadlines at MU?  Would a list of phone numbers for commonly contacted offices be helpful?  Interested in learning more about the resources available to your MU student?  The Mizzou Parent Calendar is a vital resource specially designed for you.
Families of new students will receive copies of the new calendar during fall move-in. Additional copies are for sale at The Mizzou Store.
For assistance locating other important dates at MU, please see our events page.
---
More Resources