Ticket and Merchandise Prices
There are two options available to register for Family Weekend 2019 — with purchase and without purchase. You will want to review the schedule and determine if you would like to purchase tickets for football, soccer, volleyball, Tiger Avenue Tailgate, the Family Weekend Climb or merchandise such as t-shirts, and other items. If you need to make a purchase you will register using the "with purchase" button. If you do not want to purchase tickets (including if you have tickets from another source) or merchandise you will register using the "without purchase" button.
Family Weekend items available for purchase and their price are listed below. Students must also have a ticket, so don't forget to include them if they don't already have a ticket for a particular activity. If your student has an All-sport Pass you will not need you to purchase a ticket for them for football, soccer or volleyball, they can use the All-sport Pass to enter the event. For football the student All-sport Pass allows them to sit in the student section, if you would like them to sit with you at the game you will need to purchase a reserved seat for them with your Family Weekend purchase. All tickets (including All-sport Passes) for volleyball and soccer are general admission so you will be able to sit with your student.
All purchases are final and non-refundable.
Family Weekend Events:
Tiger Avenue Tailgate – $9
Football – Reserved Seat for Mizzou vs. Southeast Missouri State — $35
Volleyball – General Admission for selected game(s) of the Mizzou Invitational – $5/game
Soccer – General Admission for Friday or Sunday game – $5/game
Family Weekend Climb – $20/climber
Family Weekend Merchandise:
Front                                                         Back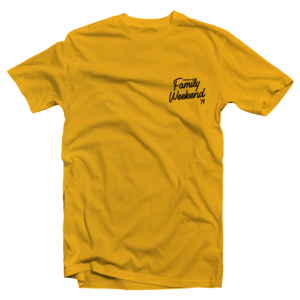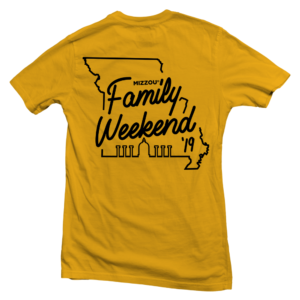 Official Family Weekend T-shirt
Youth – small through x-large – $13
Adult – small through x-large – $16
Adult – 2x-large through 4x-large – $20
Family Weekend Clear Bag (football clear bag policy) – $15
Family Weekend Water Bottle – $18
Family Weekend Can Cooler – $4
Mizzou Family Calendar – $6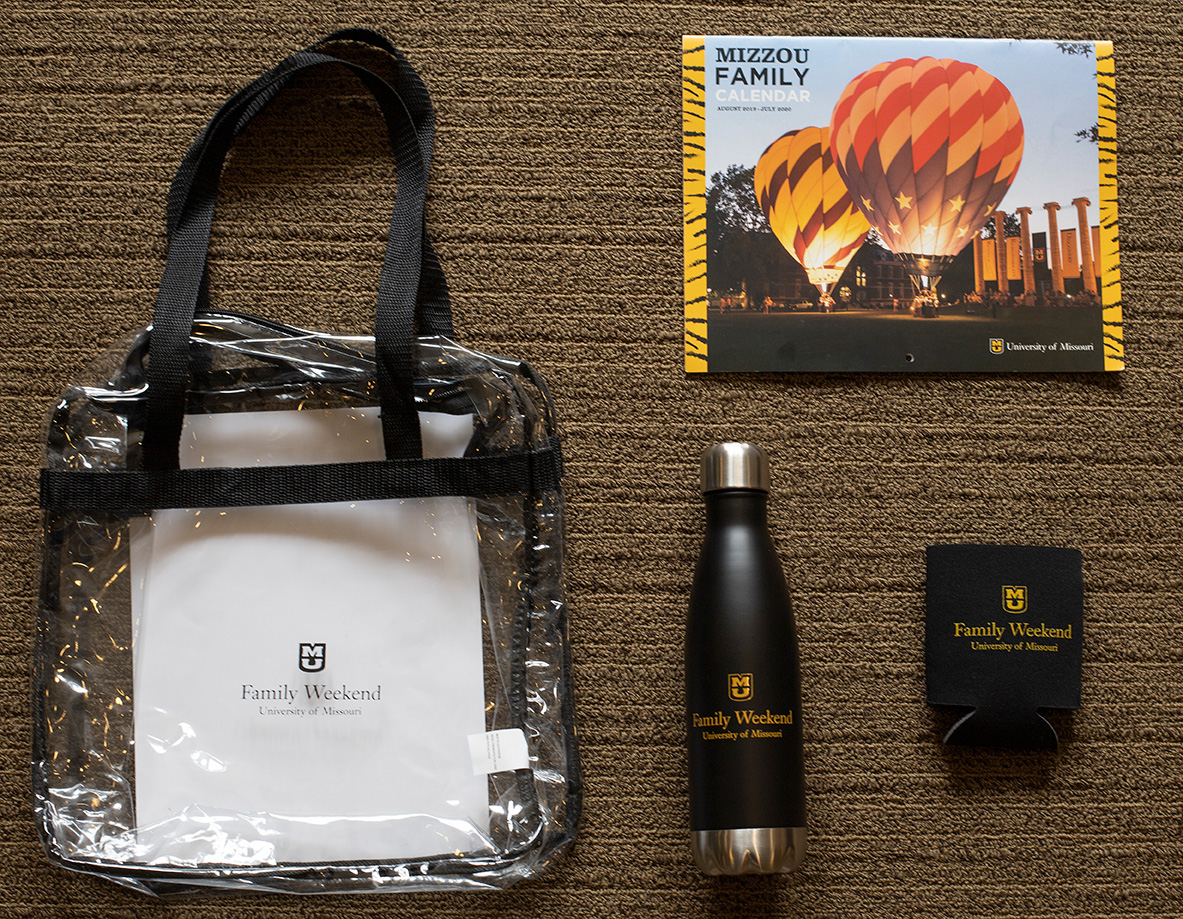 For questions, please call us at 888-631-1098.